On Friday, November 24, 2018, Canadian Legacy Project will present Canada's own The Strumbellas at the Big Four Roadhouse in support of Canadian military veterans. Tickets for this fundraising concert go on sale tomorrow through Ticketmaster.
The Strumbellas are a Juno award-winning sextet from Toronto who generate a spirited blend of folk, pop, alt-country, and indie rock that they dub "folk pop grass." Invoking names like the Lumineers, and Mumford & Sons, the group issued their eponymous debut EP in 2009, followed by a series of high-profile shows and festival gigs. Their first full-length outing, 2013's My Father and the Hunter, landed a Juno nomination in the Roots & Traditional Album of the Year category, and their Six Shooter Records-issued sophomore long player, We Still Move on Dance Floors, earned a second nomination in the category, as well as their first win. Led by the Billboard Alternative Songs chart-topper "Spirits" their third LP, Hope, arrived in spring of 2016.
"We are thrilled to present The Strumbellas in support of the work we do across Canada. This all ages concert event will help fund our newest programs designed to help those that have served our great country. In October, Canadian Legacy Project will launch a new Peer to Peer program designed to support Canadian veterans suffering with PTSD. Also, in October, our team will launch an entrepreneurial program designed to help Canadian Veterans start their own businesses. Not only will this program offer the tools necessary to start a business, but it will encourage the hiring of veterans for these new businesses and give the business owner the ability to access micro loans from our financial
partners." stated David Howard, Founder of Canadian Legacy Project.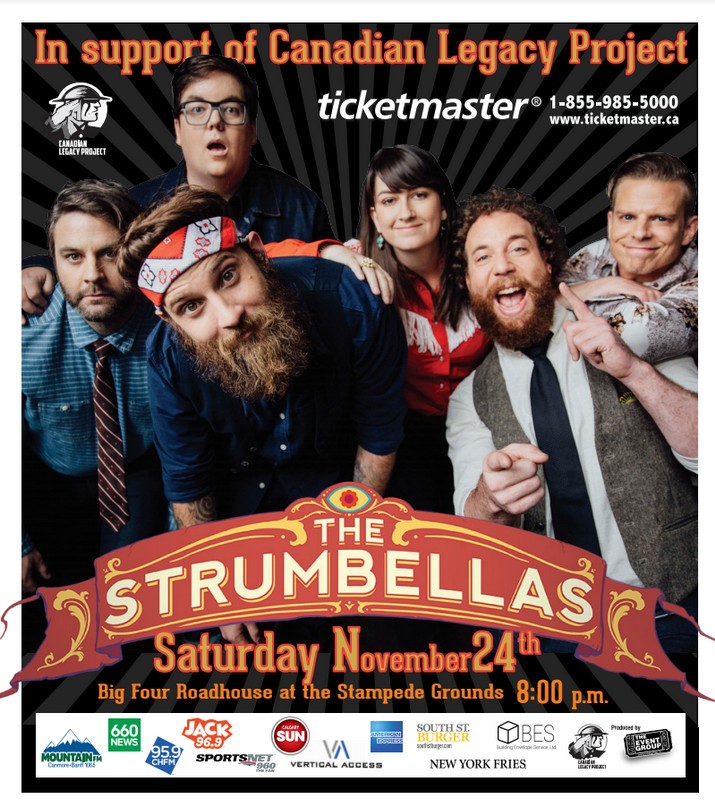 The Strumbellas
November 24 / 2018 at Big Four Roadhouse
Tickets went on sale September 7 at 10am
All Ages Show, with Licensed Area for Adults